Having not stolen Oolong's Size M Capsule, Bulma, Son Goku and Oolong are resting inside the multi-tiered House Wagon contained within. As Son Goku chows down, Bulma gets ready for a bath before bed. Oolong offers to give her his pyjamas, and plots a perverse plan...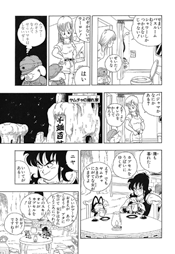 Meanwhile, Yamcha divulges his plan to Pu'ar. He will make Pu'ar shape-shift into Son Goku or Oolong to act as a distraction, so he can acquire the capsules.
While Son Goku explains to Oolong what Bulma is searching for, why and that he's with her so he can see a dragon, fight and see new places, Yamcha and Pu'ar are outside preparing their second assault. Yamcha hears Bulma and peeks in through one of the windows, only to see her naked and washing herself in the shower. Paralyzed, he moves away from the window and overhears Oolong and Son Goku's conversation. Yamcha and Pu'ar then learn about the dragon balls and their plan changes to acquire those. Yamcha decides he wants to wish to cure himself of his fear of women, as he dreams of day getting married.
After the shower, Bulma is annoyed to discover that Oolong's PJ's are tiny and she can't wear them. He feeds Bulma and Oolong a glass of juice each, which contains sleeping pills. They're both tricked into drinking the juice. Bulma falls asleep, naked beneath her towel, on her bed, while Son Goku falls asleep on the couch. Oolong then creeps upstairs to find Bulma, with very impure intentions.
Pu'ar transforms into a key and they break into the House Wagon. They discover Son Goku asleep on the couch. Yamcha tells Pu'ar to transform into Son Goku and lure the others out of the House Wagon, so he can seize the dragon balls.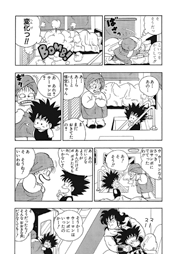 Oolong
hears
Pu'ar
coming up the stairs in his
Son Goku
disguise and panics. He covers
Bulma
with a bed-sheet and transforms into her. The two then have an awkward interaction as they both think the other is the person they're disguised as.
Pu'ar
takes
Oolong
outside and
Yamcha
goes upstairs to acquire the
dragon balls
. He sees the bed-sheet with the 'mounds' beneath and pulls it away, expecting to find the
dragon balls
...
Meanwhile,
Oolong
and
Pu'ar
both reveal their true identities to one another.
Oolong
becomes angered, while
Pu'ar
panics and flies back to the
House Wagon
to retrieve a traumatized
Yamcha
.
Ad blocker interference detected!
Wikia is a free-to-use site that makes money from advertising. We have a modified experience for viewers using ad blockers

Wikia is not accessible if you've made further modifications. Remove the custom ad blocker rule(s) and the page will load as expected.